Getting Paid Daily!!!
So I have been humming along with 4 corners alliance group and traffic monsoon for a bit now. My complete system is made of 4 corners, power lead system (capture and sales pages, email autoresponder, etc), traffic monsoon, and my advertising pays.
So today I got paid in 3 of my programs. Yesterday I actually was 4 for 4!!
I'm writing this not to brag, but to impress upon you that making money is easy when you plug into the right team. I have been broke and frustrated for a long time. There have been many times where I was spiteful and hateful at others who were making money online.
It looked so freaking easy for these other jerks to make money.. and here I am struggling up early in the morning and late at night. Bloodshot eyes and fighting off carpal tunnel syndrome and whatever else decided to happen. That also includes my computer crashing a few times.
So yes I been at the end of my frustration levels so don't get me wrong!!
But today I made money off my team in 4 corners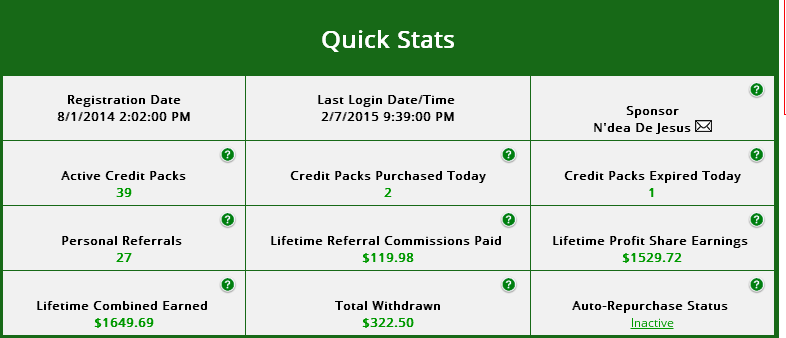 I call it 4 corners and 4 streams.
4 Corners is a one time $18 business that has no monthly fees and has financial education products. My whole life I have not been the best with money. I'm changing my personal story and am becoming more financially minded. I'm actually saving and also investing in silver (disclaimer, I'm not a investment guy).
This is coming from a person who would make $1500 per week and spend $2000 per week. Trust me, I can make that happen!
So 4 corners is the first thing we lead with. We all work on the same team and build the same matrix. I have personally sponsored a few people under my team mates and am only going to get better.
Power Lead System is my capture pages, sales videos, and email autoresponder. Everything I need is within PLS. I used to spend money on Aweber, Get Response, and all these other extras that you need but PLS has it all. I still love Aweber but you can't really do anything with the capture pages and you still need sales videos. Plus you need to be able to brand yourself and not any one company. Which is why I love PLS!
Lastly, traffic is the fuel to keep this money wheel turning. I get my traffic at traffic monsoon and my advertising pays. You can get paid to advertise your business on maps and monsoon. Take a look at my daily earnings.
I have 9 ad packs on monsoon which bring in around $9 per day. Earnings aren't guaranteed.
I have 39 credit packs on maps which bring in just under $20 per day. Earnings aren't guaranteed. See income disclosure.
So you see if people don't join me, I still get paid and when people do join me I get paid. Wouldn't you like to speak from the same position?
Because you can accomplish the same thing very easily!!